What's Trending: Home Theater Design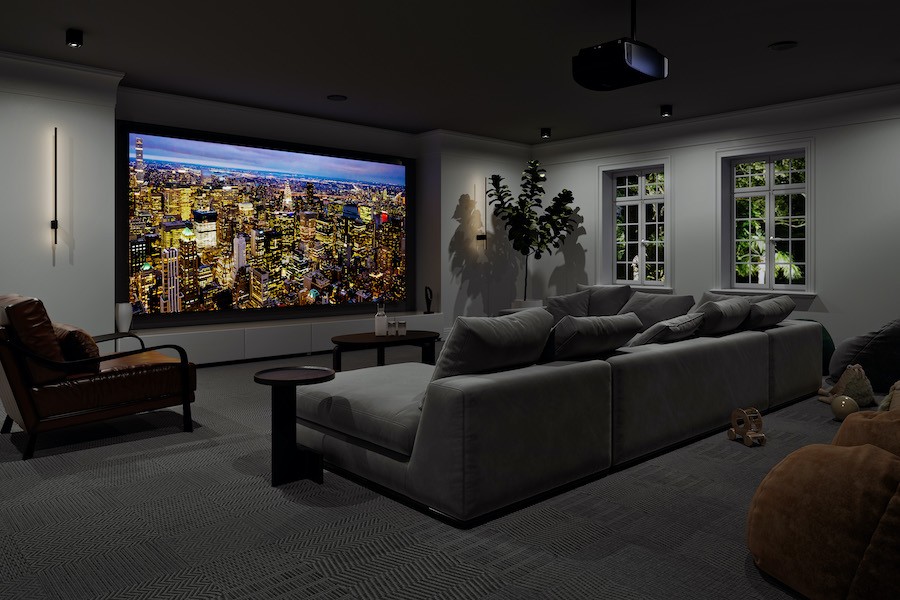 Create a Multi-Use Space for Entertainment 
Not long ago, home theaters weren't a trending design feature for homeowners, but today they are quickly becoming more popular than ever. After the pandemic, which kept the entertainment world at home, and the launch of new innovative home technologies, there is now a growing demand for home theater spaces. 
If you're considering a home theater in Buffalo, NY, Clarence, NY, or anywhere else in Western New York, here are some of today's top trending items to include in your home theater design.1
SEE ALSO: 3 Home Theater Design Mistakes to Avoid
Trending: Bigger Screens and Better Tech
Of course, when discussing home theaters, we want to start with the main attraction, the screen and projector. The latest video technology immerses you in a dramatic storyline or rivalry online game. Sony's dynamic 4K HDR projectors are perfect for a home theater. Their crisp and striking visuals appear so real-life that you'll forget you're watching from your couch or theater seats.
Trending: Surround Sound
Make your theater room rumble with the fantastic sounds of James Loudspeaker's surround sound speakers. You'll not only enjoy high-end sound that is as true to life as possible, but with properly installed speakers from Sound & Theater, you feel like you're in the center of it all! Also, the processor that drives these speakers, such as Storm Audio, helps to create an immersive sound environment unlike anything you've experienced before. 
Trending: Lighting and Ambiance
Smart home lighting systems are trending, with programmable features to create the perfect "movie night" ambiance. If you're not watching a movie, set the lights to something fun like "sports night." If your home theater room has windows, include motorized shades with your automated controls. Lighting sets the stage for a fun movie night and is something to consider in your home theater design.
Trending: Multi-Use Spaces
This trend makes a lot of sense, as not all homes have the luxury of a room just for watching movies. If you are considering a home theater, keep in mind this trend of creating a multi-purpose space. With smart home technology, transforming an everyday living room into an evening entertainment space is just a button click away. 
If designing your home theater as a multi-use space, consider items like a retractable screen, motorized shades, and lighting controls.
Trending: Interior Design
If you can create a designated entertainment space, putting effort into the interior design aspects of the room will not go unnoticed. Part of the interior design should be making a unique feel just for the space - including dark wall colors, star ceilings, and luxury comfort seating. Perhaps you want to decorate your walls with collector's movie posters or purchase a popcorn cart to wheel out for family movie night. These small details will make the space special.
If you're considering a home theater design, consult with our team of experts at Sound & Theater - we serve Buffalo, NY, and the Western New York area. Complete our online form to start, and let's make your home theater a modern, fun space.