3 Essentials You Need for the Perfect Home Media Room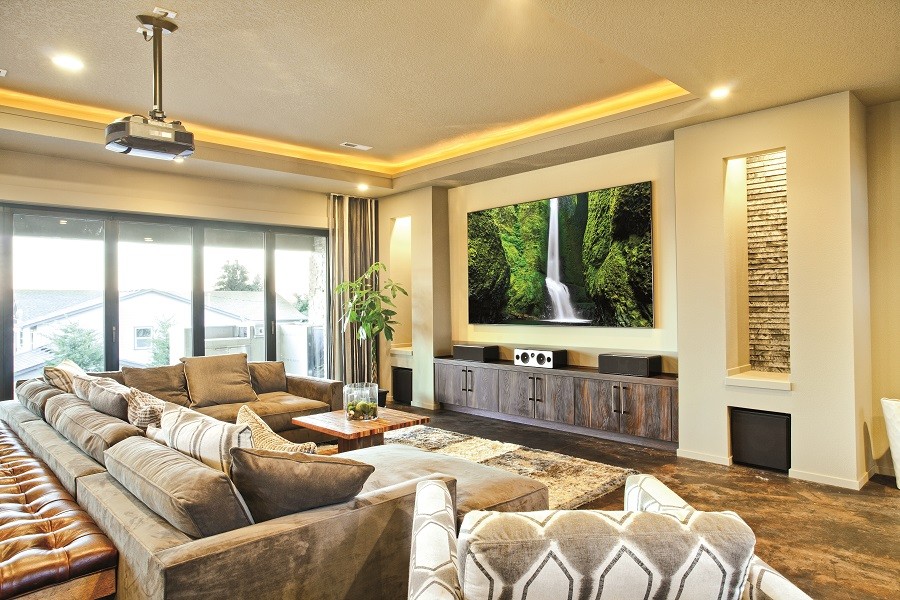 Turn a So-So Media Room Design into a Jaw-Dropping Experience
There's a lot of good to be said about home media rooms. Compared to home theaters, media rooms provide more flexibility for social events, from chatting with friends during the big Sabres game to hosting a movie night with family. To put it simply, media rooms are more practical for those who want to do more than just sit in a quiet, dark environment and watch films.
But because of their more "general-purpose" design, media rooms can lack the proper essentials needed for that jaw-dropping movie experience. So, how can you have your cake and eat it, too? Keep reading to learn about three media room design essentials that will turn any so-so media room in the Amherst, New York area into one that's movie-buff approved.
SEE ALSO: 3 Easy Ways You Can Enjoy Whole-Home Audio and Video
Motorized Blackout Shades
Because media rooms are so versatile, they're usually placed in more open, high-traffic areas of the home that are exposed to windows for natural lighting. This setting can be great for watching the morning news or chatting with friends over a mid-day sitcom, but when you're ready to shift into movie gear, transform the viewing experience with motorized blackout shades.
Motorized blackout shades from QMotion are specifically made to transform your space for total darkness. Choose from a variety of colors and materials to match your media room during the day when they are rolled up, and then use one-touch control to lower them when you're ready to conceal the daylight and block out glare from the sun.
Control any or all of your QMotion roller shades as you desire with a multichannel remote, voice control, or your Control4 interface for custom convenience. Even set them on a schedule to raise and lower automatically when you know you'll need them.
Tunable LED Lighting Control
Lighting design can either make or break the ambiance of a media room. Because a media room is multi-functional, your lighting should be, too. Tunable LED lighting is perfect for setting the tone of your social event.
You may be thinking, "Won't I just turn the lights off during a movie?" Although that may be true, you also can use your lights to set the mood for both movie-watching and socializing. In that case, use your QMotion shades to block out bright, natural daylight, and then dim your tunable lighting to a low, warm temperature similar to that of a candle's flame. You'll receive relaxing lighting that helps you see but also complements the viewing experience. With some tunable lighting technologies, you even can turn the lights in your media room blue or red, if you want to add extra flare to the viewing experience.
ALR Projection Screen
There will be times when it just won't be appropriate to blackout your media room during a movie, particularly if you're multitasking or keeping an eye on your kids in the next room. With an ALR screen and projector combination, you can still get a premium viewing experience with your lights on.
Ambient Light Rejecting (ALR) screens are designed to give you a big-screen picture with beautiful high contrast and solid color saturation, even in a lit room.
As opposed to the common matte white projection screen that is easily washed out by ambient light and does little to enhance the displayed image, ALR screens are designed to filter out ambient light to provide premium brightness and contrast levels that are equal to, and even surpass, that of TV panels.
The ALR screen and projector setup is great for media rooms that serve as spaces for parties, gaming, midday TV watching, and other socializing where your lighting preference will change depending on the event.
Does your media room need an upgrade? Our team members at Sound & Theater are leading experts in designing and installing custom, high-end media rooms for residences in Amherst and the larger Western New York area. Let us know the goals for your media room, and we can make it happen!
Just contact us here or send us a chat below to get started.