Your Outdoor 4K TV Questions Answered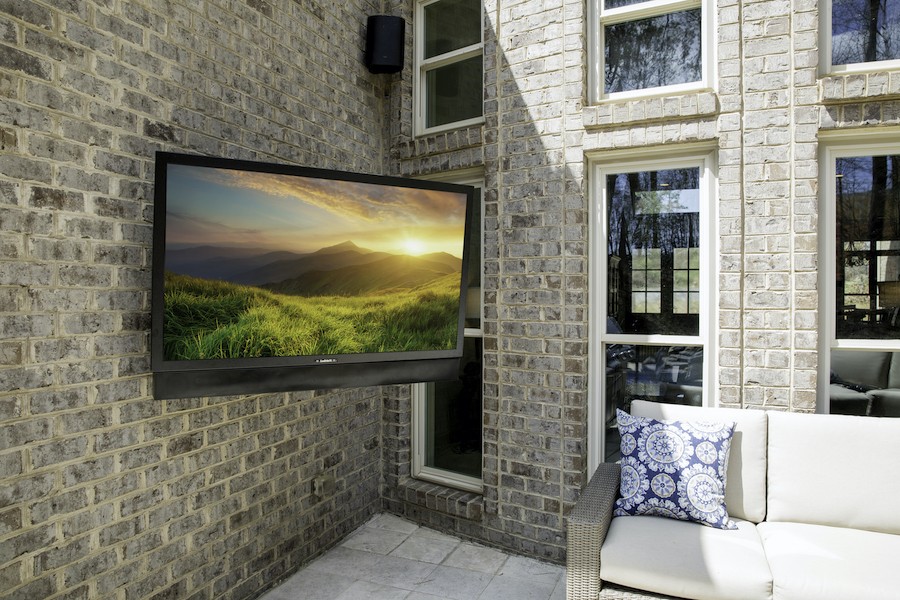 Enhance Your Entertainment Options with a 4K Outdoor TV
Outdoor entertainment is growing in popularity with homeowners whose previously unused patios or decks have since been transformed into entertainment oases to get the family outdoors during the warmer months. Want to join them? Adding an outdoor TV is a perfect place to start.
We've received questions about options in the outdoor 4K TV market, so we thought we'd take a moment to address them here. Continue reading to learn more about installing an outdoor TV in your Western New York home. 
SEE ALSO: Spread the Entertainment Outside with an Outdoor Audio-Video System
Do they make 4K outdoor televisions?
Yes, there are a variety of 4K outdoor televisions on the market. However, we like the options available from SunBriteTV, a leader in the outdoor television industry. They have various options in their all-weather, ultra-bright LED-LCD TVs with 4K resolution. Designed with anti-glare and OptiView™ technology, they offer the best products for consistent viewing experiences during bright days and dark nights.
We can help you choose a SunBriteTV size that fits your needs, from 43 inches to 75 inches, manufactured and warrantied explicitly for outdoor use.
How are outdoor TVs different from indoor models?
There are two significant differences between indoor and outdoor TVs:
Outdoor TVs have brightness levels up to three times brighter than indoor TVs because they need to perform in bright sunlight.

Outdoor TVs are manufactured with enhanced weatherproofing considerations to withstand rain, wind, humidity, insects, and more,, and include fans and heaters inside to operate in extreme temperatures.
It is essential to purchase a TV rated for outdoor use if you're planning to use it outdoors. Using an indoor TV outside can negate the warranty or cause electrical concerns such as shock or fire.
What factors are essential when considering an outdoor TV?
Things to look for in an excellent outdoor TV include:
The size you need for your outdoor space

High resolution; 4K or better

A range of brightness and contrast levels

Quality audio output

Weatherproofed and warrantied

Ability to connect with wireless technology, including smart home devices
Do outdoor TVs have good sound?
Yes. In fact, your outdoor TV could have the best sound on the block when integrated with a top-of-the-line outdoor speaker system from Sonance. Experience blockbuster movies, thrilling TV shows, and the big game with the same crystal-clear sound quality of your home theater.
How do you install and maintain an outdoor TV?
For the best experience possible, we recommend turning to the experts at Sound & Theater for assistance installing an outdoor 4K TV. We can ensure quality placement, installation, and programming to meet your connectivity expectations with wireless internet, external audio, or other technology.
To maintain your outdoor TV, consider regular cleaning and dusting, a protective cover for weather protection when not in use, and timely maintenance and repairs as needed.
Your Resource for Outdoor 4K TVs
Sound & Theater is your best resource from Clarence, NY, to Ellicottville, NY, for an outdoor 4K TV. Contact us to discuss your options, including the differences between SunBriteTV models and other brands in the market. Get more enjoyment from your outdoor spaces with an outdoor TV from Sound & Theater.