Make Stronger Connections Through Collaborative Conference Room Design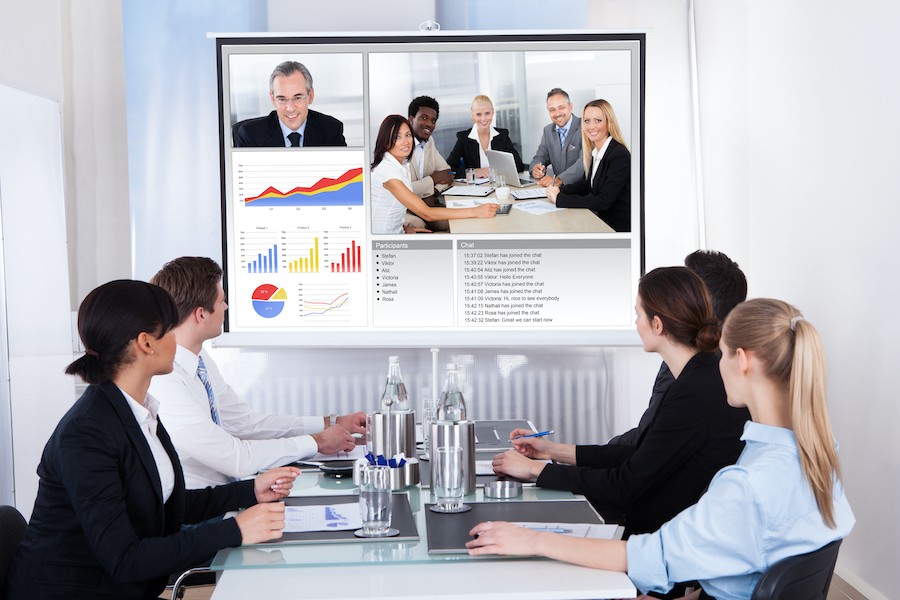 How Modern Workplace Technology Enhances Meetings
Have you considered an update to your conference room design? With the integration of new modern workplace technologies, it might be time to assess if your conference rooms are ready to meet the needs of today. In addition, virtual collaboration is becoming the new normal in business – is your facility prepared to support these changes?
We understand that only some businesses in Western New York have chosen hybrid or remote workplace structures. However, your clients and vendors may want to communicate in these new virtual ways to reduce travel budgets and utilize time more efficiently.
Continue reading to learn about the conference room updates we provide to businesses from Buffalo to Ellicottville. 
SEE ALSO: 4 Must-Have Technologies for a Top-Grade Conference Room
No Replacement for Face-to-Face
When circumstances restricted travel and sent teams home to work, many businesses were wary of the impact the lack of in-person collaboration would have on productivity. But, to the surprise of many, video conferencing became an effective way to keep relationships churning and facilitate meetings with others.
We all remember our first video conference call experience. There was likely poor lighting, some network hiccups, and maybe even some anxiety from watching yourself on the screen. But today, many businesses have adopted video conferencing as a standard. The technology and resources have improved; hopefully, any anxiety has left the building. However, we have learned that the proper conference room design is necessary to present a high-quality and professional virtual meeting.
Here are a few common ways to adjust for quality video conference calls:
Place cameras near the conference room TV. This placement will feel the most natural and allow attendees the best opportunity to simulate face-to-face conversation.
Incorporate more than one microphone when possible, ideally placed on the table or suspended from the ceiling.

 

Test audio systems and room acoustics to ensure clear sound quality.
Evaluate if

networks

need a boost to support video conferencing and eliminate screen freezing.
Add lighting to dimly lit rooms.
Install shading to block the sunlight during calls because the sun's brightness frequently adjusts, which can impact the video quality.
Collaborative Tools
What type of collaborative tools are available in your conference rooms today? If you typically use whiteboards, consider upgrading to digital whiteboard technology so virtual meeting attendees can easily collaborate. Intelligent web cameras that focus on the speaker are also helpful for improving communication during a virtual meeting.
Employee Training & Practice Sessions
Once you have updated your conference room design and installed new technology, we recommend training your employees on the new system. Be sure they are comfortable and skilled when using online presentation tools, especially client-facing. Practice sessions can improve employee consistency and confidence, and our all-in-one smart systems should be intuitive for all to use. 
Is it time for a conference room design update in your Western New York business? If you need support considering options and setup structure, please contact our team for expert guidance and assistance.