This Showroom Will Redefine Your Expectations of Immersive Audio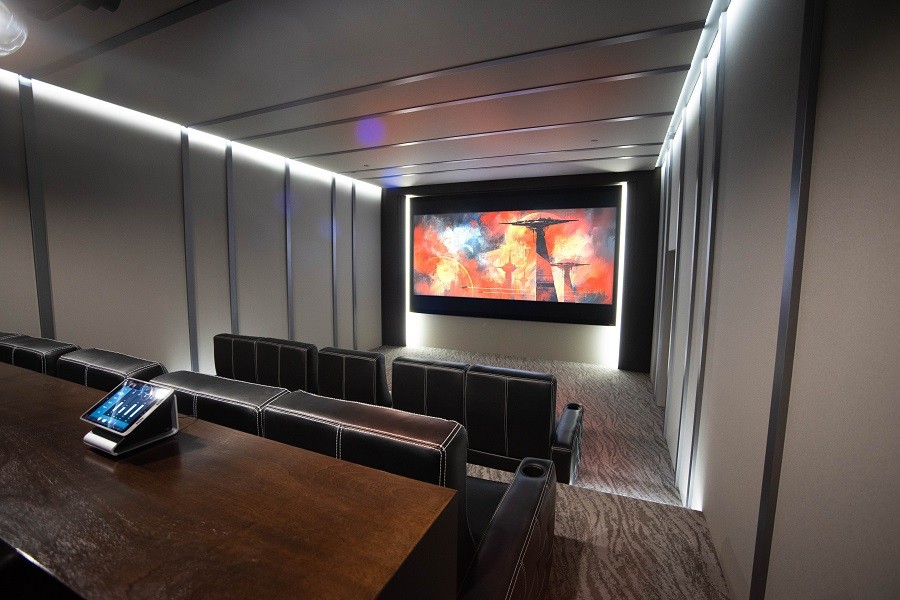 See, Hear & 

Feel

 the Highest Caliber Home Audio 

Systems

 and More
When searching for the perfect home audio system, there's a lot to be considered. Online research and guidance from credible sources are helpful for finding a solution that best fits your needs, but we believe there's an even better way to envision your dream audio system: experiencing it for yourself.
That's why we've proudly partnered with a select number of the most reputable manufacturers and integrators to create a state-of-the-art showroom and design center to showcase the possibilities of high-caliber home audio solutions for homeowners across Buffalo and the larger New York area.
Whether for your home theater, dedicated listening room, or whole home, the audio experience you wish for is here for you to see, hear, and feel. Learn more about what to expect when you visit the Rochester showroom below.
SEE ALSO: How Sound & Theater Can Help You Build Your Dream Home Cinema
Immersive Surround Sound for Cinema
Inside the half-million dollar, 1,100 square-foot showroom located in the Rochester Design Center is an immersive theater room dubbed as one of the best demo home theaters ever built. It is certainly the most advanced and sophisticated demo home theater on the eastern seaboard at this point, providing a cinematic experience that's bound to lift your expectations of surround sound.
Inside the theater room is an incredible 31-channel speaker system capable of reproducing Dolby Atmos, DTS:X, and Auro-3D soundtracks at the highest quality , where visitors can truly experience the emotionally involving nature of immersive surround sound that goes beyond traditional multichannel audio setups.
Many theaters don't use more than 7.1 surround decoding. But with the new object-based, three dimensional audio formats like Dolby Atmos and others, sound now has the ability to transport you into your favorite films with moving audio that floats around you with breathtaking realism.
For any homeowner looking for a top-tier audio system for their upcoming or existing theater room, experience what's possible by demoing the Rochester home theater. You'll truly be blown away.
Dedicated 2-Channel Listening Area
The Rochester showroom also houses a dedicated 2-channel listening area for casual music listeners and audiophiles alike to experiment with different qualities of home audio systems that are designed for different needs.
Looking for an audio solution that allows for easy ambient listening throughout your entire home? Perhaps you're in search of a high-performance speaker system on which to play your cherished vinyl records. The dedicated listening area is specifically crafted to showcase audio systems that range from low-end to high-end so every visitor can experience a solution that fits their needs.
… And Much More
Additionally, the showroom foyer is equipped with a Control4 automation system so visitors can have a firsthand look at how easy it is to control any scale of home audio from the convenience of a single interface. Learn how to effortlessly select, pause, adjust, and share music in any and every room from your favorite streaming services or even your own media collection.
Control4 goes beyond audio as a powerhouse automation and control system for the entire home, from lighting and climate to security and more. Experience just how intuitive and personal Control4 makes controlling everything in the home with just a tap of a button.
Until now, our team at Sound & Theater has never had a dedicated showroom. We're proud to have been part of building the Rochester showroom and creating a dedicated space in which to show you the possibilities of immersive audio, cinema, and home automation.
There's only so much you can tell from photos or an online review of smart technology and AV products. Now you can get a close-up look at what can be done with today's most innovative solutions by visiting the Rochester showroom.
Book a private demo at the Rochester or learn more about our solutions in quality home audio by contacting our team here or sending us a live chat below. We look forward to hearing from you!