Here's How You Can Bring Your Home AV Outdoors This Summer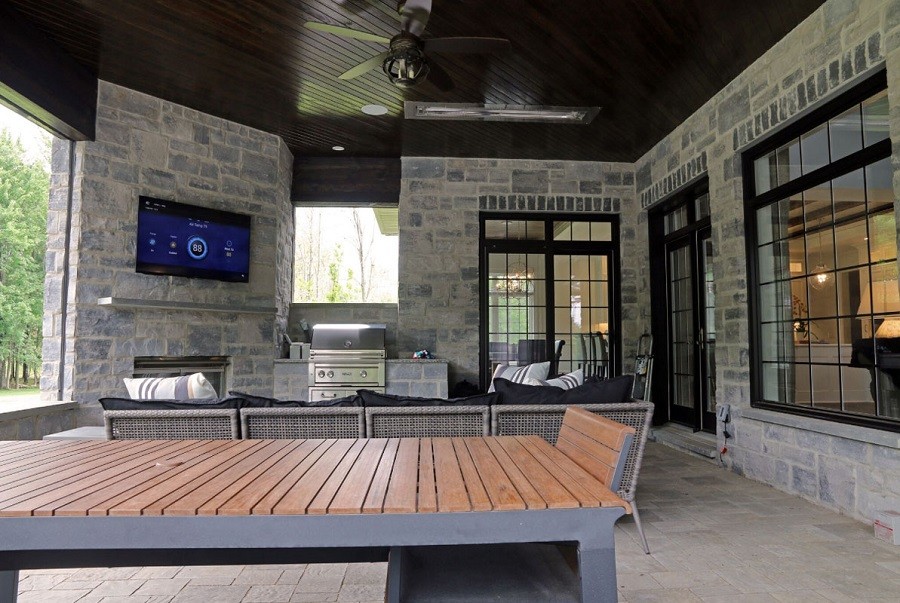 Enjoy a Custom Outdoor Entertainment Solution 

For

 Your Property
Have you ever thought about being able to watch TV while lounging in the sun or listening to speakers throughout your backyard play music while you and your family spend time by the pool?
With summer quickly approaching here in New York, now is the perfect time to make that vision a reality.
In this post, we explore how you can bring home audio video technology outside this summer with a custom outdoor entertainment solution. Our AV services are available to homes in Clarence and throughout all of Western New York.
SEE ALSO: 3 Easy Ways You Can Enjoy Whole-Home Audio and Video
Outdoor Television
You can add on-screen entertainment to your outdoor living spaces with a TV designed for the outside.
We at Sound & Theater partner with SunBriteTV, the industry leader in outdoor televisions, for our custom backyard entertainment installations.
Best of all, you don't have to sacrifice image quality to enjoy an outdoor TV.
SunBriteTV offers screens in 4K Ultra HD resolution for shaded and partial-sunlight viewing. These TVs are similar to indoor televisions. However, they are three times brighter to combat significant amounts of sunlight and also are weather-resistant.
You can use an outdoor TV in temperatures as cold as -40 degrees Fahrenheit and as hot as 122 degrees. Due to their powder-coated aluminum exteriors, interior components also are protected from rain, snow, dirt, and insects.
This means that you can enjoy watching an outdoor TV in any weather condition – even from your covered patio during a summer rain shower.
SunBriteTV also manufactures screens designed to operate in direct sunlight. No matter where you want to place an outdoor TV in your backyard, your local custom technology expert can skillfully install one and connect it to your home audio video sources.
All you'll then need to do is sit back and enjoy the show from your backyard living spaces.
Outdoor Speaker System
A backyard speaker system is perfect for bringing music to your outdoor spaces. Whether you're hosting a party or are sitting near your fire pit with family at nighttime, an outdoor speaker setup can add to the atmosphere.
However, you want to ensure the speakers you install will operate at their best. That's why it's best to work with a professional.
At Sound & Theater, we partner with MSE Audio – a leading brand for high-performance audio – for our outdoor speaker projects.
We will include a range of speakers including their Rockoustics line of rock and landscape speakers and their Phase Tech outdoor on-wall speakers.
Best of all, we then will expertly connect your speakers to your home audio video sources (such as a Sonos:Connect) through an expertly wired solution. This will allow you to control your entire outdoor speaker system through the convenience of your smartphone or tablet.
You will be able to select music to play from your outdoor speakers with just the press of a button, whether it's from a stored album or your favorite Spotify playlist.
Interested in learning more about our custom outdoor entertainment services in the Clarence area? Reach out to us today by clicking the button below!